Seahorse II - A Small ship
Seahorse II (82 feet long and a beamy 23 feet) is joining us on our sea adventures. Our proud new small ship was built to the highest standard for the Norwegian fjords and life in the high northern latitudes. A 10mm Swedish steel hull, air conditioned and heated throughout, and winter sailing for the British Royal Navy for months at a time in the western approaches means that our wee, cruise ship is more than enough for our summer adventures in the Gulf Stream warmed waters of the west coast of Scotland. Powerful enough to cruise the many spectacular islands and lochs of Scotland's west coast, yet small enough to anchor in remote and hauntingly beautiful places that the larger passenger ships are unable to visit. With a maximum speed of 11 knots (from a 350 hp Volvo diesel) and with 15 tons of fuel and 10 tons of fresh water Seahorse II is a sturdy, go-anywhere, yet comfortable adventurer.
On the spacious aft deck (ideal for alfresco dining) we have a powerful little crane for launching Seahorse's two dinghies and your own sea kayaks. Here there is plenty of room for your wind and kite surfers, bicycles, diving gear, sailing dinghies and anything else you need for a great sea adventure.
Accommodation
On Seahorse II we take a maximum of eight guests. There are two single cabins, two twins and one double cabin with a three quarter bed, all temperature controlled and with washbasin, and a wonderful deck saloon where we dine and view the spectacular Hebridean wildlife. A bridge full of the best navigational aids, a high foredeck for wildlife spotting and a boat deck for lounging, she is the perfect vessel for your life afloat.
Accommodation Layout - Upper Deck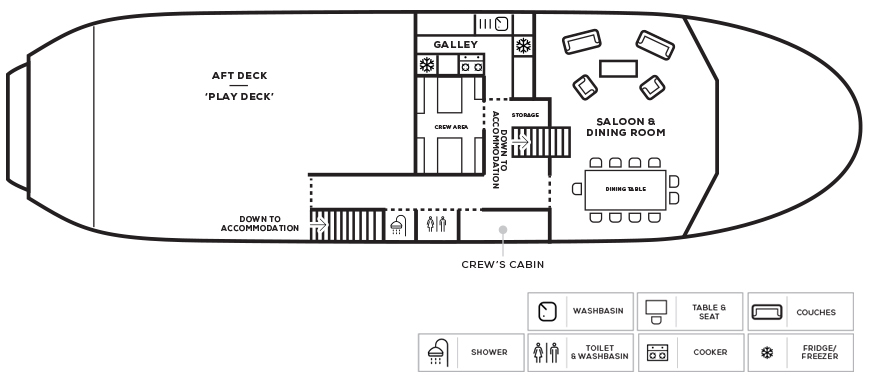 Accommodation Layout - Lower Deck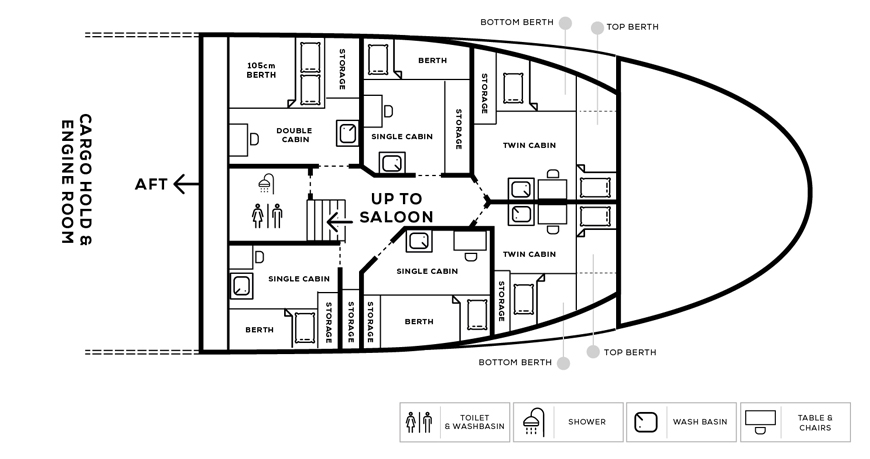 Your Crew
Your professional skipper is passionate about boats, sailing, and the natural environment of the islands and sea lochs of the Hebrides and Argyll. He is more than happy to share his knowledge of the area to those on board while ensuring his shipmates have as much fun as possible. You also have your own on board chef who provides wonderful meals, locally-sourced and freshly prepared from the galley.