The well-lit, roomy deck saloon is where everyone dines and socialises and here everyone enjoys a convivial atmosphere that is encouraged by shipboard life aboard this sturdy, ocean-going wooden ketch.
The cabins are warm and comfortable for our six guests. In the spacious fore cabin there are four, cosy, single berths all with bunk-side tables and reading lights. Adjacent to the fore cabin there are separate toilet and shower rooms, which are both to a high standard for a yacht. There is a spacious aft cabin with a large double bed and an en-suite toilet and shower with pretty opening portholes. All cabin linen and towels are supplied.
The outdoor decks are large and safe, perfect for spotting wildlife and relaxing and eating al fresco when the boat is at anchor or under way. You also have plenty of deck space to embark your own equipment such as bicycles, canoes, windsurfers and surfboards.
Forthcoming Accommodation Changes
Our winter project for 2017 will be installing a second en-suite. Book now to guarantee your place in our new en-suite for your next exciting Scottish island cruise holiday.
Accommodation Layout - Lower Deck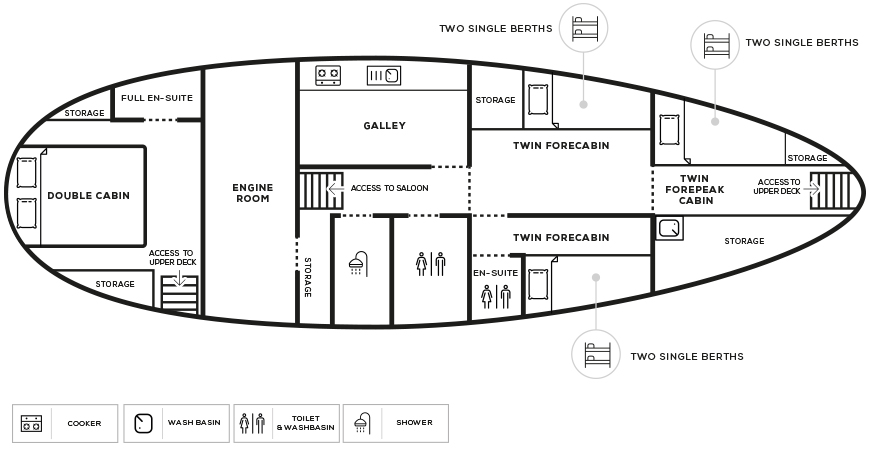 Your Crew

Your professional skipper is passionate about boats, sailing, and the natural environment of the islands and sea lochs of the Hebrides and Argyll. He is more than happy to share his knowledge of the area to those on board while ensuring his shipmates have as much fun as possible. You also have your own on board chef who provides wonderful meals, locally-sourced and freshly prepared from the galley.